Scott, Jenny, and J-Rod will be broadcasting LIVE from the K105.3 Studio for 24 whole straight hours, raising money for a great cause! 6am Friday, August 7th – 6am Saturday, August 8th
The proceeds will be donated to: JDRF, Soar Cafe & Farms, Andy's Angels, and Jackson Autism Support Network.
Tune in and get your credit card ready. You'll be able to donate via PayPal in exchange for things like:
Song Requests: $10
Unusual Song Requests: $50
Challenge Scott to take a picture with a live snake: $1,000
Challenge Jenny to dye her hair purple on-air: $500
Play a trivia game & pick your DJ: $50
LOTS MORE!
We have many more fun challenges and activities planned throughout the whole 24 hours with special guests, live video features and more!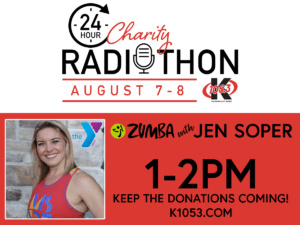 Tune in to K105.3 and keep checking back right here to find out how you can donate and become a part of this event!