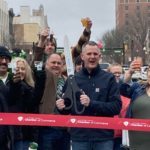 Jackson, Mich. — St. Patrick's Day marked the official opening of the downtown Social District in Jackson, with a ribbon cutting ceremony on Michigan Ave. by the Chamber of Commerce.
The Social District will allow patrons to purchase alcoholic beverages in designated disposable cups from eight participating bars and restaurants, then leave those establishments with their drinks, as long as they stay within the borders of the Social District. Learn more on the Jackson DDA's website here.
"Downtown Jackson has been growing and been expanding for about the last ten years," says Cory Mays, Executive Director of the DDA, adding that this is the next big step in that expansion. "We're sorry it took so long, but we just couldn't be more excited." Hear more from Mays below.
"So many people and businesses have made our downtown vibrant," commented Craig Hatch with the Chamber. "Thank you to the DDA, the City of Jackson, and all the businesses that are participating." Hear more from Hatch below.
Ted Christoff, owner of Christoff & Sons Floor Covering in downtown Jackson, remarks, "What a wonderful addition to our downtown now that we can create more social events." Christoff says there's just something about coming downtown and seeing all the people walking around. Hear more from Christoff below.
State Representative Kathy Schmaltz told WKHM that this project has been a long time coming. Schmaltz is on the board of directors for the Michigan Theatre and is glad to see downtown Jackson thriving. Hear more from Schmaltz below.
The Social District is active Thursdays through Sundays at designated times. Visit the Jackson DDA website for more information.