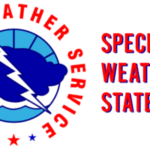 From the National Weather Service:
Action Recommended
Avoid the subject event as per the instructions
Issued By
Grand Rapids – MI, US, National Weather Service
Affected Area
Jackson County
Description
…A Few Storms Possible This Afternoon… Showers and a few thunderstorms will develop and expand in coverage just east of U.S.-31 and I-196 through mid afternoon. These showers and storms will then push east toward the U.S.-127 corridor into the early evening hours. Any storm will have the potential to produce some wind gusts to 40 mph and small hail up to the size of dimes, along with cloud to ground lightning. Locally heavy downpours will also be possible.