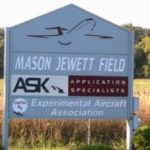 A small dual prop airplane landed without its landing gear, Saturday in Mason. It happened just before 12:30PM at the Jewett Airport.
The Piper Twin Comanche's landing gear failed to deploy, according to the 60 year-old pilot from Lansing. He was the sole occupant of the plane, which he landed safely on its belly, causing damage to the underside and propelars. The pilot was uninjured.
Ingham County Sheriff's Deputies responded to the scene, as well as Lansing airport police. The incident has been forwarded to the Federal Aviation Authority for review.