Jamie McKibbin 6 AM – 9 AM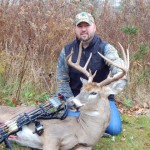 Jamie is now waking you up weekday mornings 6am-9am with "Country & Coffee w/ Jamie McKibbin" playing all your favorite country hits and some classics too. Jamie is the former longtime morning show host on K-105.3, current host of the "Outdoor Show" on ESPN 101.9, and General Manager of Jackson Radio Works.
Call the studio at 517-990-9426 or get in touch with us on Facebook: @959thepowercow
Captain Steve 9 AM – 3 PM
I was born and raised in Jackson and I'm a graduate of Michigan center high school. After high school I earned an associate of arts from Jackson community college and attended the Specs Howard School of Broadcast arts. I'm proud to be a part of the Jackson community. My country music favorites are Garth Brooks, George Strait, and Clint Black. I'm a big sports fan and love the Tigers, Lions, Wolverines! I've been at Jackson radio works for several years and it's great to be a part of a company that serves Jackson so well.
Greg Green 3 PM – 7 PM



Greg is a Michigan native who grew up in the "Burbs" of Detroit and has spent over a quarter century on the radio.  His radio career has taken him to Houston TX, Detroit, Columbus OH, Adrian Mi, Lansing Mi. Toledo OH and Jackson Mi, and admits the best years were in Country Music!  He is a graduate of the Spec's Howard School of Broadcast Arts, a former MAB personality Award Winner, love's to play Golf, is one of the first members of the Shania Twain Fan Club and can strum a guitar pretty good?  (Alright, let's be honest, he's OK?)
"I could not be happier or more excited to return to Country Radio at 95.9 The Power Cow in Jackson,  Michigan USA !   Look forward to spending weeknights with the rest of you country music fans.  So many good times to come!"