At Jackson Radio Works, interacting with the community and our listeners is very important to us. Our radio stations partner with area businesses to help those in need and give away prizes during the holiday season.
K-105.3 Cares
November 28 – December 16, 2016 – K-105.3 partnered with 14 area businesses for our annual "K-105.3 Cares" promotion. These businesses helped us purchase around $1400 in gifts for two adopted families through the Salvation Army. Along with these sponsors, the radio station gave away one $25 prize every weekday during this time period to a listener during the morning show with Scott and Mallory.
Our sponsors: Allskate, West Side Furniture Emporium, Christoff & Sons, Michigan Community Credit Union, Danny Smith Motor Mall, Kelly Imports, Dicker & Deal Cash Center, Anytime Fitness of Jackson, Petersen Jewelers, ABC Academy, Brooklyn Plumbing Heating & A/C, OmniSource, Columbia School District, and Huff Auto Group.
The culmination of this promotion came the morning of Friday, December 16th when we randomly selected one of our callers to win a check for $500.00 from K-105.3. The winner, John Weese, was elated and says he plans to share the winnings with loved ones.
---
12 Days of Magical Mystery Holiday Giveaways
December 5 – 21, 2016 – K-105.3 launched a new promotion this year called "the 12 Days of Magical Mystery Holiday Giveaways." Each weekday during this time period, we welcomed a different co-host on the K-105.3 Morning Show with Scott and Mallory. Each co-host was a proprietor of a local business who brought a grand prize to give away, which remained a mystery until the end of the hour. After much suspense, the prize would be revealed to a caller live on the phone. Prizes ranged from $300 to $500 in value every day and included items from electronics to getaway packages to cold hard cash.
Our co-hosts: CP Federal Credit Union, I've Been Framed, American 1 Credit Union, Tyler Construction, Salon J'Adore, Jackson Community Federal Credit Union, American Title Co., Bill Krueger of State Farm Insurance, Splash Universe, Tripp's Auto Shop, Culver's, and Sproat Realty Professionals
---
Holiday Cash Hunt
November 14 – December 9 – NewsTalk 970AM/101.5FM, 95.9 The Power Cow, and ESPN Radio 101.9 FM teamed up to send our listeners on a Holiday Cash Hunt. We created a custom passport along with 7 area businesses – listeners who chose to participate would then have to download this passport and get it stamped at each location throughout the 4 weeks of the promotion.
This drove foot traffic to the Jackson county businesses, and was intended to be a fun challenge for our listeners.
Once the completed passports were returned to the radio stations, we combined them all and randomly chose a winner to receive a $500.00 check on December 19th. The winner, Joe Page and his wife both participated in the promotion and he plans to share the winnings with her.
Sandy Wilcher was drawn as the runner-up to win a prize pack from our sponsors worth $200.00, including gift certificates to these businesses.
Stamping locations: Bras That Fit, Save Time Convenience Stores, Pegasus Spas, Bill Krueger of State Farm Insurance, Clothing Carousel, Shear Paradise Day Spa, and Printer Source Plus.
---
Hatchimals Auctions Raise $330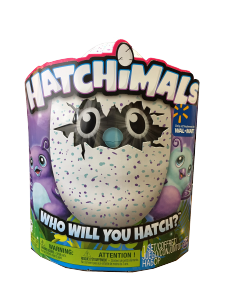 Thursday, December 8th & Wednesday, December 21st – Two K-105.3 listeners acted on their own to donate their hard-to-find Hatchimals toys to K-105.3 to auction off for charity.  The first donor asked that the proceeds benefit Toys for Tots in memory of her 14 year old daughter who passed away from cancer. The online auction raised $200 for Toys for Tots, which was used the following day during a toy drive that raised over $8,000 at Walmart. Read more here:  http://www.k1053.com/2016/12/09/10430/
The second Hatchimals toy was donated by an 11-year-old listener and raised $130, this time to benefit the Jackson Community Food Pantry.
"It warms our hearts that they came to us. I'm just glad that with our resources and large audience we were able to help raise funds for a good cause," said Ashley Smith, Promotions Director for the radio station.