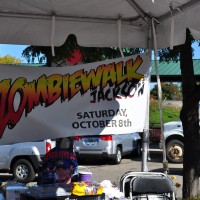 Jackson, MI –  THE ZOMBIES ARE COMING!   And came they did.  This past Saturday the parking lot at the Grand River Market in downtown Jackson, MI., was transformed from the normal Grand River Farmer's Market Saturday morning to THE place for the un-dead to gather and celebrate all things zombies.  From the Pumpkins for sale at the Grand River Market, to the beer on tap at the Grand River Brewery.  The stage was set and the 2016 Jackson Zombie Walk did not disappoint.
As the story goes, sometime in or around 2008, a very disturbed group of friends, thought it would be a fun idea to dress up as zombies and go bar hopping….   The next year, that same group of friends, got a little bigger, and 25 walking dead, paraded the streets of downtown Jackson, MI.  Fast Forward to 2016, the annual Jackson Zombie Walk has become much more.  
Local and out-of-town zombies, some from as far away as Ohio, flocked to downtown Jackson with one thing on their minds – to eat brains….  And to celebrate community. 
Jason Mulholland, organizer of the Zombie Walk, said, "Each year, so much is added to make the event bigger for the community to come together in a fun and unique way."  This story has yet to be finished. The Walking Dead are among us once again….  Here are some great photo's of the walk by Travis Stevens ~ Photos of 2016 Jackson Zombie Walk
Here is a link to the Zombie Walk Jackson – Facebook Photo gallery
If you have a community story that you would like to have covered by Jackson Radio Works, please send an email to Steve Ferency please use "Hits the Streets" as the subject line and send to sferency@k1053.com.