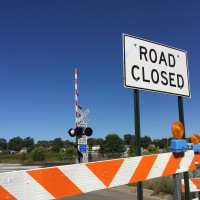 Jackson, MI – For someone who drives through the city of Jackson on a daily basis like me, you can find yourself a bit confused on how to get from point A to point B lately due to the amount of road closures, detours, and construction.   We've all been through it. When you're at Westwood Mall and need to get to Allskate Fun Center, which on a normal day would take about 5 mins to accomplish.  Now, that trip takes you all the way up Wildwood to West Ave., only to get caught in traffic on West Avenue because everyone is forced to take that same road.  The trip is now a 10-15min trek in a sea of orange traffic signs.
Adjusting our routes to compensate for the extra time has been tricky but we all know that the work was long over due.  Just ask the 100 year old pipes under Downtown Jackson that were recently replaced.
Yes, some of the roads have yet to be done, but for the ones that have – they're fantastic!  Dearing Rd. in front of Western High School is great.  Robinson Rd. is amazing.  West Ave. is so smooth, and Downtown is spectacular (Despite the ongoing work). These are just a few of the completed projects that have made driving in the Jackson community so much easier on our vehicles.
There is much more on the horizon but it's a necessary disruption to our "flow" through the city and beyond.   Just imagine, two way traffic on Louis Glick Hwy.  Coming Soon to a city near you.